Back in the 60s everything was black and white. Colour hadn't been invented yet and wouldn't come into being until the summer of 1966 when all the hippies created a psychotropic marmalade explosion due to all the LSD they were taking. This second "big bang" * happened to coincide with a range of kitchen and dining products being designed over in Southend-on-Sea at the EKCO Plastics factory.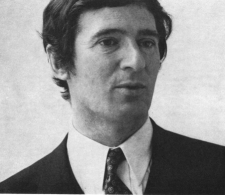 David Harman Powell
A gentleman by the name of David Harman Powell had come up with the idea of creating a set of stackable cups, saucers, dinner plates, breakfast / dessert bowls that could be stored very neatly away. The cups in particular would not tilt over when stacked one on top of the other unlike conventional cups of the time. The decision to develop such a new range was the sequel to a carefully conducted market study made by Ekco Plastics in 1965, which showed that prospects were good for the introduction of a new tableware range. To undertake the necessary research and development, a product planning committee was set up under the chairmanship of Michael Godfrey, then the company's managing director; within this team Mr Powell, the company's chief designer, was responsible for the design of the forms.
After a study of possible materials, the committee concluded that styreneacrylonitrile co-polymer, a relatively new plastics, was the most suitable. Although it was a comparatively sophisticated and costly material, it had just benefited from a useful price reduction, and had a number of advantages over its rivals. In particular, its mechanical, thermal and chemical properties appeared to suit many of the requirements for tableware, such as rigidity, resistance to fracture and staining; and yet, being a thermoplastic rather than a thermosetting material, it could be moulded by the speedy process of injection.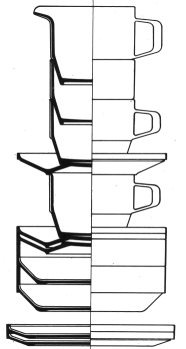 A schematic of the stackable design click to view larger drawing
I mean, come on, styreneacrylonitrile???? What on earth is that? And this was back in the 60's! A long time before we would hear other made up words such as Pentapeptides, Nutrilium and Boswellox. It does sound like a load of Boswellox if you ask me!
A variety of colour schemes was used including orange, yellow, lilac, grey, and white. Later on a new "Florentine" printed range also appeared.
Any road up, the Novaware collection was entered for and won the 1968 Duke of Edinburgh's Prize for Elegant Design. A panel consisting of the Duke (not John Wayne), Sir Colin Anderson, Hon DesRCA, Hon ARIBA, the Marchioness of Anglesey, Mrs Mary Ward, ARIBA, and Mr Robert Heritage, RDI, DesRCA, FSIA. voted that it was the best set of stacking tableware they had ever seen. Even today, the Duke owns the largest collection of Novaware in the world and has insisted that it be included as the only tableware to be used on the Queen's proposed purchase of a private jet (citation needed) And she really does need a Citation as that it the best luxury jet you can get.

The Duke sees how many cups he can stack
When they are not holding State dinners (where the posh crockery comes out) Prince Phillip and the Queen dine from Novaware to this very day usually watching the Early Evening News with one of those TV dinner trays with a cushion glued to the underside of it.
My mum had a full set of the white and grey range back in the 70s. Sadly only the bowls remain. Examples can be picked up from time to time on Ebay but they are quite scarce.
During the era that it was sold the prices were as follows:
Cup 4s 10d,
Ssaucer 2s 9d,
Small plate as 9d,
Milk jug 7s 6d,
Sugar bowl 4s 7d,
Cereal bowl 5s 3d.
EKCO Plastics included the Novaware range with its other products at various trade shows and it can be seen on the trade stands in some of the pictures below. Typically the Nova range of products tended to be used for picnics and as dining sets for use in caravans rather than the mainstay of dinnerware in the home. Conventional crockery survived this threat of cheap plastic space age dining sets. Due to us living in Southend nearly all of my friends parents had some form of EKCOware in their houses when I was growing up. My oldest friend Piers notes that his parents still have a lot of the Luxuryware range of bathroom products still in use to this very day, which just goes to show the great longevity and fine craftmanship that went into the production of these items. Both our parents still have spare EKCO toilet seats in their respective lofts. Piers' parents have the more luxurious heated variant which he uncovered the other day still in its original box and containing all the protective wrapping. Anyone out there with Novaware still in their posession? Pics to the usual address at the bottom of the page.
Below is a selection of images taken from the EKCO Plastics archive prior to it being released to the Mayor of Southend in a ceremony held on the 25th Sep 2008.
Click on an image for a larger version.
Other notable images click to enarge
| | |
| --- | --- |
| | A comparison picture showing how neat Novaware is compared to conventional crockery. EKCO obviously chose the most unstackable cups they could find |
| An employee adding the antistatic coating to some Novaware cups. I know it looks like she is just doing the washing up but in the 60's THAT was her job once she got home from work along with making sure a hot meal was on the table for when her husband came home from work. | |
| | Not visible in this picture, is the tea that has spilt down this unidentified models cardigan from having the cup and saucer at a stupidly jaunty angle. Bet she wasn't smiling like that on the way to Billericay Burns Unit knowing full well that she would never model swimwear again. |
| Meeting David Harman Powell. The designer of EKCO Novaware in 2011 | |
It doesnt really end there either. On the 29th October 2011 a Conference held at the Southend Museum and Library Lecture Theatre took place. The theme was entitled Design in Mind and a great many speakers came and spoke about the history of Ekco Design and the plastics industry of the era. I was fortunate to be able to attend for the morning and even managed to have a few words with David Harman Powell about the product that he designed. I was lucky enough to have him sign a side plate from each of my orange and lilac collections. A picture of this is shown above.
Other EKCO information of a much less tongue in cheek nature can be found on Chris Poole's excellent website dedicated to the EKCO Radar work that went on during World War 2 it can be found by clicking HERE
* Not to be compared to the "Second Big Bang" resulting from the Large Hadron Collider experiments in 2008
Some images and text taken from the 1968 "Design" Journal CLICK HERE
Photos courtesy of EKCO Plastics Archive / Southend Borough Council communications team.